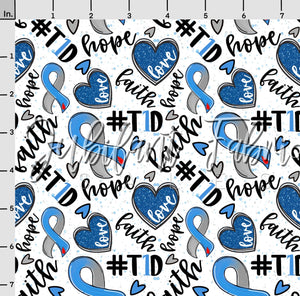 JubilantJenni
T1D Awareness
Regular price
$11.50
$0.00
Unit price
per
*SOLD BY THE HALF YARD 
 💙 Type 1 Diabetes
Diabetes means your blood glucose, or blood sugar, levels are too high. With type 1 diabetes, your pancreas does not make insulin. Insulin is a hormone that helps glucose get into your cells to give them energy. Without insulin, too much glucose stays in your blood. Over time, high blood glucose can lead to serious problems with your heart, eyes, kidneys, nerves, and gums and teeth.
10% of sales from this print in as a donation to JDRF:
https://www.jdrf.org/t1d-resources/about/causes/
-
This item is for Pre-Order. All bases sold by the HALF Yard All fabric should have a minimum WOF of 54". 
Items will be scaled as shown; There are rulers built into the watermark
The colors may vary slightly due various monitor & print settings.
Please visit the General Information tab for more information. 
---